Designer of the Month – Charlotte Biba Bouchard
[ad_1]

Charlotte Biba Bouchard is a jewellery maker that originates from Cornwall, who likes to create bold but simple piecse. Learn more about what inspires this jewellery maker and more in this month's Designer of the Month below
Let us know a bit about yourself, detailing your background, study and training in the jewellery making industry.
Originating from Cornwall, I now live and work in the heart of South Devon so I am very much at home here in the West Country.
I have always been a maker in one way or another creating Perspex jewellery as a teenager back in the 80s, period costumes, theatrical props and now precious metal jewellery. Having undertaken Silver Jewellery classes as part of my local Adult & Community Learning programme, I have spent the last 12 years honing my techniques, style and skills whilst selling my jewellery through galleries and at selective Craft and Open Studio Events. Recently, having been made redundant from my other part-time job, I decided that I should embrace the opportunity and 'go for it' so I am now very happy to finally say that this is my full-time job.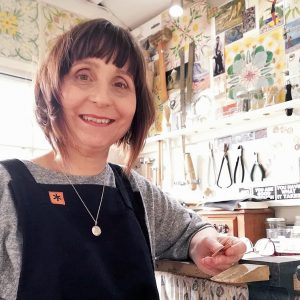 Tell us about your work – are there any particular materials or techniques that you favour?
I mainly work in silver and absolutely love using textures, fabricating my designs from recycled silver sheet and wire and often layering up different components to create more dimension. I frequently using oxidisation to really accentuate the depth and rub back areas to a bright matt silver to highlight and contrast.
Recently, I have also been enjoying wax carving and the challenges of casting! It provides a method to really explore shape and textures be they organic and rustic or sleek and angular. I'd love to make a series of bold, angular statement rings set with rough cut or freeform stones.
How would you best describe your design style?
My jewellery can be simple and bold in design, but I am also drawn to create delicate and intricate pieces. The silver and gold floral necklet incorporating Violets, Forget-me-nots and Ivy was inspired by the Language of Flowers and represents love, remembrance and fidelity. Above all, I like my pieces to have something that people can identify or connect with to give them more meaning and I try to incorporate an element of 'story' in all my main pieces.
Where do you like to get your inspiration from for your pieces?
I have always been fascinated by artefacts from Ancient cultures – Egyptian art especially and, as a young child wanted to be an archaeologist like Howard Carter! It follows then that I also love the Art Deco period and style and it can clearly be identified as an influence in my jewellery.
Having grown up, and still living in the South West countryside just a stone's throw from the coast, I am surrounded by nature which is an ever-changing inspiration for my work.
Do you have a piece that you have made which you favour or are particularly proud of?
It would have to be the floral necklet that I made back in 2011 when I was on the ACL Silver Jewellery course. Making it really was the pivotal point in changing my working life. At the time I was working as a Primary School Teacher and whilst I loved the job, I really felt a 'need' to spend my days creating and making this piece gave me the confidence to pursue that dream.
For a novice, it was quite a complex piece to make and I learnt so much about what is possible with metal. Looking back at it now and if I made it again, I know that it would be more refined – my soldering skills have certainly improved! It is a piece that I would never want to sell, and I do manage to wear it from time to time.
What is the one item in your jewellery making workshop that you could not live without?
It's hard to choose and until recently I would have said my Durston Rolling Mill without hesitation but … my new Smith's Little Gas Torch has been a game changer in enabling me to solder my multi-layered pieces without so many melting moments.
What upcoming trends do you see being popular soon?
I am finding myself increasingly busy remodelling people's inherited jewellery. Whether it would be classed as a trend or not I am not sure, but I do think that people are much more conscious of and wanting to reuse existing resources and what better way than to incorporate stones and precious metal that had meaning to a relative, friend or loved one? The Citrine in the bold statement ring came from an heirloom silver Edwardian bracelet that had been broken and left in a box. It is just one stone of several that I have made into different pieces of jewellery. It gives me a lot of pleasure to think that they are being worn and appreciated and it links the wearer to the past family member and their unique history.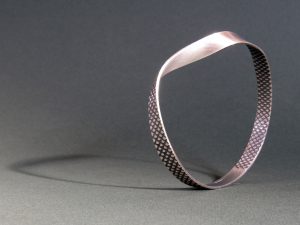 What is the most valuable lesson you have learnt from your time in the jewellery making industry?
To keep practising and learning. I count myself fortunate to have received encouragement, teaching and support from some amazing Jewellers who have given so generously of their time and experience. As a result, I aim to do all that I can to support others in their learning too. On-the-whole, people in the jewelling profession are very willing to share their advice- it is a great community to be a part of.
Do you have any particular advice that you would give to up and coming jewellery designers, or someone interested in getting into jewellery making?
Don't be put off and think that it is too late, you haven't got the right training or equipment or opportunity. If you are passionate about doing it, you will find a way. 'Believe in yourself, just do it and enjoy it'
Finally, time for a bit of fun in our quick-fire round!
Tell us your favourite…
Colour – Green, always has been
Biscuit – Garibaldi (although they will always be 'squashed fly biscuits' thanks to them being referred to that as a child)
Drink – Tea – medium strength and not too milky
Place – I'm a family person so it has to be 'Home'
Animal – Cats (sorry to our dog Loli!)
Gemstone – What is not to love about a clear and sparkling old cut diamond?
Food – Cornish clotted cream and jam but on a Cornish 'split' not a scone
Sport – I'd rather not!!
Film – Truly, Madly, Deeply – gets me every time
City – Bath – the Antique Centre and Costume Museum are my favourites
Many thanks to Charlotte for being our Designer of the Month this month and for sharing this information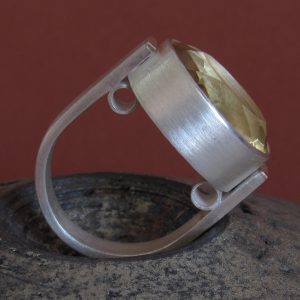 For more details on Charlotte's work, you can visit her site, Facebook and Instagram
Want to discover the work of other jewellery makers?
Take a look at our interviews with even more Designers of the Month to learn more about their designs, inspiration and more.


[ad_2]

Source link