Designer of the Month – Elizabeth Evans
[ad_1]

Elizabeth Evans aka Elizabeth FJE Design is a jewellery maker that has a love of classic and contemporary jewellery, as well as using silver, gold and pearls in the most beautiful way. Learn more about this month's Designer of the Month below
Let us know a bit about yourself, detailing your background, study and training in the jewellery making industry.
I'm 21 and currently in my third year studying Classics and French. At the time of writing, I'm supposed to be on my year abroad in Paris, but having to stay in the UK due to Covid has actually been a blessing in disguise as I have more time to progress with jewellery and my small business. I began silversmithing with a couple of workshops with Kim Thompson during my art foundation around 3 years ago, and fell in love with making jewellery the moment I picked up a jewellers' saw.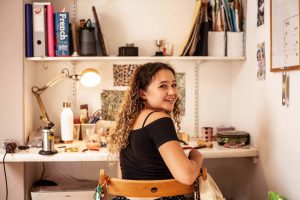 Tell us about your work – are there any particular materials or techniques that you favour?
Having studied sculpture during my foundation year, I'm very interested in form and process, preferring to work out ways of hand-building complex pieces rather than carving and casting. Being able to manipulate cold, hard metal into something delicate and beautiful through melting, forging, and soldering is incredibly empowering.
I tend to work in ecosilver and brass but have begun working increasingly with gold. I love setting stones as it makes me feel like a 'proper jeweller', however, I still feel like a student of silversmithing and want to challenge myself with trickier setting techniques.
How would you best describe your design style?
Making the classical contemporary and bringing the ancient into the everyday.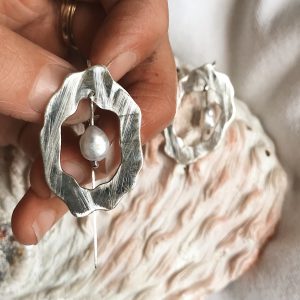 Where do you like to get your inspiration from for your pieces?
Studying Classics at university, I'm obsessed with anything classical – especially Greek, Roman and Byzantine jewellery and techniques. This is hugely influential on all of my designs, whether it's directly in the form and feel of the pieces, or through more conceptual ideas.
I scour history books, museums and even Pinterest boards to surround myself with as many classical designs as possible. I often consider how these could be translated into modern, wearable and accessible pieces, thinking about how they would have been worn in their original context and what I would change about them to style them now.
Do you have a piece that you have made which you favour or are particularly proud of?
Perhaps not the most complex or 'perfect' piece I've ever made, but this moonstone ring is special. I'd picked this gemstone for its inclusion as it looked so unique, and then made it into a ring for my mum as a mother's' day gift. Aside from it being my first time working with gold, I repurposed one of her older pieces which carries a lot of meaning, and I made the remainder of that repurposed piece into a little gold ring for my 21st birthday. Both pieces have their own sentimentality and story. For me, this is the beauty of jewellery.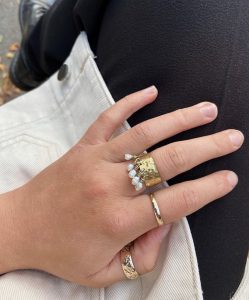 What is the one item in your jewellery making workshop that you could not live without?
My Dremel drill. It's a 395 model so probably as old as me! I ought to upgrade to a newer, lighter model but I'm so attached to it that I don't have the heart to put it into retirement just yet. I remember being in a jewellery workshop; we'd just been taught how to use a drill and as soon as I got home that evening, I rooted through the tools in the garage and was ecstatic to find it. I've used it on every piece I've made since.
What upcoming trends do you see being popular soon?
Small Business love! In terms of demand, I feel like more and more people are looking to small designers to create custom pieces for a huge range of price points. Whilst bespoke fine jewellery will always be a tradition, I increasingly see people of my age looking to buy directly from the designer, and wanting the option to customise their chosen piece – often by having a say on the metal combination, specific gemstone etc. to make it unique. With everyone being so physically disconnected right now, having that person-to-person purchase, and having personalised, unique pieces is more important than ever. Consumers are becoming more aware of tailoring their experiences and purchases to being exactly what they envision, and I think the jewellery industry will be one of the principal sectors embracing this.
More than just a trend, too, sustainable and ethical metals, gemstones and studios are always on the up – and rightly so!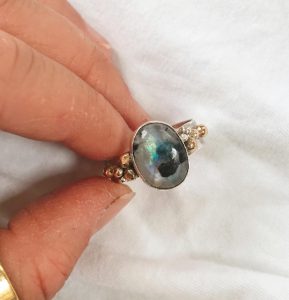 What is the most valuable lesson you have learnt from your time in the jewellery making industry?
I suppose this applies to much of life, really, but the most valuable thing that I've learnt is that mistakes happen, and failure is fine. In fact, some of my favourite designs and self-developed techniques have come from failure – resulting in ideas that I never would've had otherwise.
It can be something as small as melting bezels when trying to solder them (happened many a time when I was learning!), but this taught me how to understand and build a relationship with metal, and notice the minute changes that happen during such a process.
Do you have any particular advice that you would give to up and coming jewellery designers, or someone interested in getting into jewellery making?
Just take the plunge – and don't be afraid to ask for advice. I started with an extremely minimal budget (around £80!) and minimal equipment, which made me much more resourceful and meant that I had to be more creative with what little I had. This actually turned out to be a really good thing. It seems like a lot to get your head around at the start, but take a quick look on The Bench and at some YouTube videos to get an idea of the basics. Whether it's simple beading or beginning with straightforward hand-cut shapes, we all start somewhere.
I'd also advise following and supporting creatives who are where you want to be in a year's time. Of course, everyone has their own workload and trade secrets, but many are more than happy to give a budding jeweller a little nudge in the right direction when needed.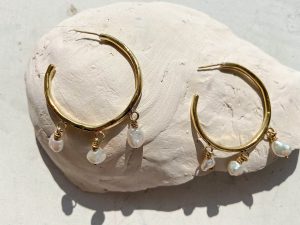 Finally, time for a bit of fun in our quick-fire round!
Tell us your favourite…
Colour – Gold!
Biscuit – Dark chocolate Leibniz are my weakness
Drink – Lemon & ginger tea, or a good G&T after clocking off.
Place – Anywhere with loved ones.
Animal – Dogs, especially greyhounds.
Gemstone – Diamonds (my birthstone!), and labradorites make me swoon!
Food – My Singaporean grandmother cooks the best traditional Chinese food.
Sport – Running, cycling, rowing – a little bit of everything to keep it fun.
Film – A hard watch, but Queen & Slim is one of the most amazing films I've ever seen. The film Intouchables always makes me laugh and cry in equal measures
City – Rotterdam or Barcelona – both have that perfect balance of laid-back and buzzy, and amazing art and culture, too.
Many thanks to Elizabeth for being our Designer of the Month this month and for sharing this information
For more details on Elizabeth's work, you can visit her Instagram, Facebook or Etsy page
Also see Elizabeth's How to Create Different Texture Finishes tutorial
Want to discover the work of other jewellery makers?
Take a look at our interviews with even more Designers of the Month to learn more about their designs, inspiration and more.


[ad_2]

Source link