What are jewellery findings? | The Bench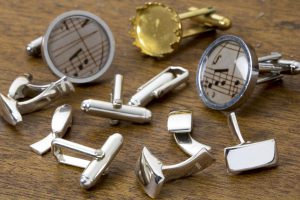 New to jewellery making? It can be pretty overwhelming getting to know all the ins and outs of everything, especially when it comes to jewellery findings. You might be wondering "what are jewellery findings?" and "what exactly do they do?".
We're here to help with our jewellery findings guide. We've picked out some of the most popular findings that you're likely to need on your jewellery making journey, talking you through what they are and what they do.
What are findings in jewellery making used for?
First up, what are jewellery findings? They are the small parts that make up a piece of jewellery – the building blocks to jewellery making. You may not have noticed them until now. They're the extras like clasps, links and rings,  that help to bring your pieces together. Jewellery findings are available in a range of different alloys, sizes and styles – so there's something out there to suit every design.
But what are some of the most common jewellery findings? And what do they do exactly? As a beginner, you won't need to worry about every type of earring, bracelet or necklace finding – so use our jewellery findings guide to help get to know the most common findings, below.
The different kinds of findings for jewellery making
Jump rings. These are the go-to findings when you're looking to connect two items together, without the need for solder. Jump rings are small metal hoops that are primarily used to attach clasps, beads and pendants to chains and bracelets. You can also use jump rings to create your own chainmail jewellery. At Cooksongold, we have both closed jump rings (which are complete circles that cannot be opened) and open jump rings (which have a small cut in the side that make them ready to open or close) available.
Bolt rings. Perfect for a range of jewellery making projects, bolt rings are used to fasten chains, necklaces and pendants. They're functional and affordable and come with a sprung clasp.
Clasps. A jewellery clasp, or fastener, is the mechanism that allows you to secure a necklace or bracelet, without causing any damage. Some clasps are designed to be hidden while others are bolder and meant to be a key element of the design. Jewellery clasps come in a range of styles and shapes, including flat, oval, round and tube. We also have a range of filigree, hammered and plain clasps to suit every design.
Earring findings. These range from wires, studs, screws and scrolls. Earring findings are a quick and easy way to bring your simple designs to life. Wondering how to use earring findings? Simply attach your choice of gemstone, charm or bead to create your own drop or stud earring.
Split rings. Slightly different to jump rings, split rings are often considered more secure as they double over – similar to a keyring. Instead of opening or closing the ring, you thread them around until they're attached to the other component.
Safety chains. Used to keep your jewellery safe while wearing it. Ideal for expensive or sentimental pieces, you can add them to your bracelets, bangles and more.
Collets. The perfect way to secure gems and stones in place, whether you're designing new necklaces or rings. Solder them to other findings to create unique jewellery pieces. Collets are suitable for necklaces, earrings and rings. Available in a range of colours, sizes and carats, you're sure to find the perfect collets to embellish your pieces.
Chain ends. You can never have too many chain ends. Used to finish a necklace or bracelet chain and secure a clasp in place. There are multiple styles and alloys to choose from, including chain ends, crimp ends and cord ends.
And that's our jewellery findings guide – complete with the most essential items you'll need to start up your jewellery making career or hobby.
Discover a range of jewellery findings at Cooksongold
At Cooksongold, we're a one-stop shop for any jewellery maker, providing some of the best of the best in jewellery making tools, bullion and our extensive range of jewellery findings. We ensure we provide quality every step of the way, throughout each component of your jewellery making project. Browse our selection of earring, bracelet and necklace findings for jewellery making online today, and pick up everything you need to help get you started.